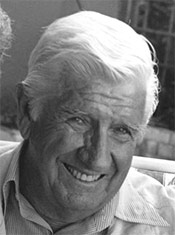 Loomis Dean was one of the legendary photographers whose work made LIFE magazine the leading photography showcase for more than four decades. His work has appeared in hundreds of galleries and museums worldwide, and he has received numerous awards throughout his career.
Born in Monticello, Florida, his father William was an artist and his mother Maud was a one room school teacher. Loomis moved with his family to Sarasota, home of the Ringling Brothers Circus, when he was 16. He was, as he said, "transfixed," and actually did run away with the circus. Years later, the first of his 52 covers for LIFE would be his photo of a Ringling Circus giraffe and famous clown, Lou Jacobs. Only two other Life photographers had more covers than Loomis Dean.
Dean chose his life's work abruptly, when he watched a friend in a darkroom, developing film. "Seeing that image appearing mysteriously on the wet paper hypnotized me... I was hooked". He hitchhiked to the top-notch Eastman School of Photography in Rochester, New York, where he received a scholarship and washed dishes to pay his way. His professional career began as a "junior press agent" with the Ringling Brothers Circus where he cultivated a side job photographing the vast array of circus performers and workers. For four seasons of mainly one night stands he covered the country with the circus train, developing his film at night in his hotel room, and rinsing the prints in the tub. His photographs of circus life are unique in that they captured the drama, and quirkiness of the daily life on a moving city of international artists, performers, and workers. In World War II, he became an Air Force photographer, and covered the war in the Pacific from the air and on the ground. In 1947, he joined the staff of LIFE, considered the dream job of the day. For Loomis Dean, it led to a lifetime of cosmic encounters. They began in Hollywood, where he not only photographed film stars, but fanned out over the country to photograph stars in general from Elvis Presley and Liberace to Noel Coward, J. Paul Getty, and more.
In 1956, enroute with his wife and children to his new post in LIFE's Paris bureau aboard the Ile de France, they came upon the sinking Andrea Doria and returned to New York with the survivors and Loomis's pictures. Returning to Paris by air, he was in time for communist riots, and war in Suez, followed by a succession of major world events, from celebrity funerals to royal weddings, from popes to fashion designers, lemurs in Madagascar and oil sheiks in Kuwait. In all, he stayed 25 years in Paris, "an absolutely marvelous experience."
In LIFE's heyday, some of its top photographers arrived at their assignments like visiting royalty. Loomis Dean turned up with hayseed innocence that charmed the mighty off their perches and often into rare moments of eccentricity.
The Prince of Liechtenstein, wintering snobbishly in St. Moritz , gladly posed for him in his winter undies, balancing on a Bongo Board. Noel Coward obliged as the embodiment of Mad Dogs and Englishmen, formally dressed, standing in the middle of the desert. Of his numerous awards, a favorite was the 1965 Papal Prize in Rome. He donned a dark suit and flew in from Paris to receive it from the Pope himself. The text was complex, and his name was misspelled: "To Mr. Lommis Dean, for the plasticity of the image and the relief of the color, which translates in visible terms the idea of the Church in movement in the light of grace and the sanctifying experience." Loomis never missed a beat. "Why," he told the Pope, "that's exactly what I had in mind."